I am often going up to my favourite bench above the playing fields to watch the sunset on fine nights. I have taken many snaps and now suffer from a surfeit of sunsets!
The month of May saw me visiting Newark for a second time to see and stay at my Australian cousin's.
The weather whilst there was brilliant sunshine and sudden bursts of rain. The rainbow photograph (near right) was taken after a cloud-burst.
Newark has strong connections with the Civil War. Charles the First was handed over to the Parliamentarians near Newark at Southwell.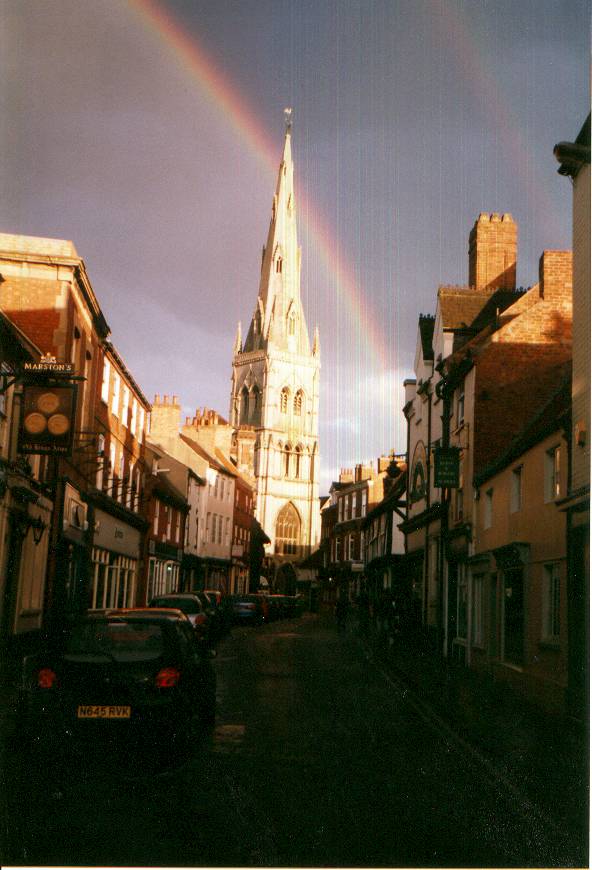 Amazing double rainbow over St. Mary Magdalen's Church.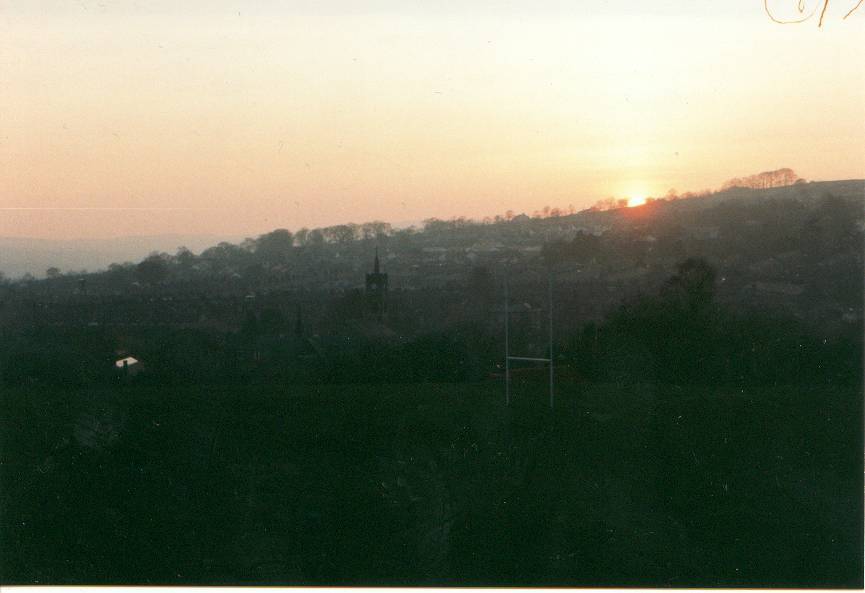 Sunset over Silsden - March 2003.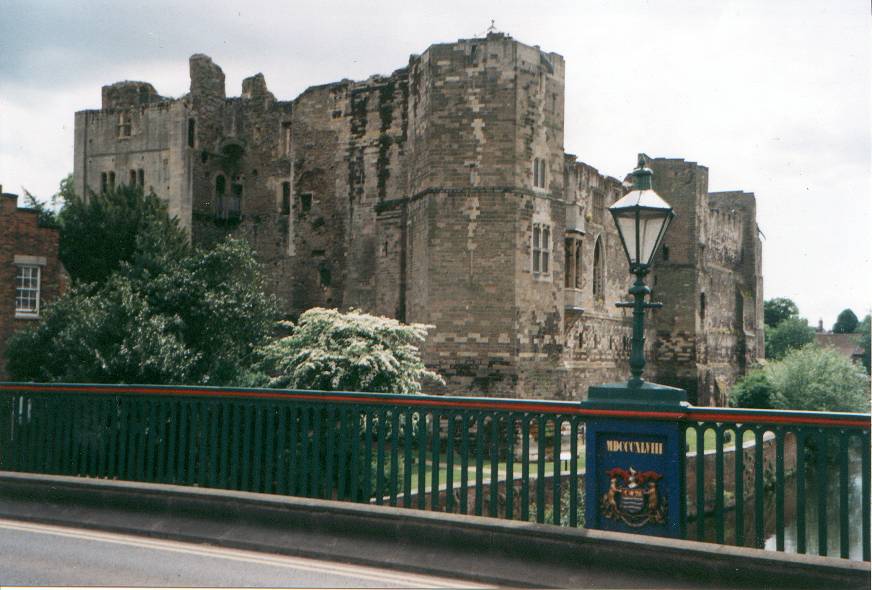 Newark Castle - Last stronghold of the Royalists during the Civil War. Sacked by Cromwell.
September saw me through a gruelling five-hour train journey to visit another Martin, now moved to Exeter with the Meterological Office.
The weather was so mild we were often having meals on his patio and it was not too unpleasant for me to smoke my pipe outside.
In the Town centre there is the Cathedral and Guild Hall, and also Parliament Street, thought to be the narrowest in the World. About two feet wide at its narrowest.
I also went on a guided tour of a network of medieval tunnels under the Town centre. Built to house the lead pipes bringing water to the Town from a spring outside.
We had a memorable evening at the Quay (see far right), having a meal outside the 14th Century Prospect Inn.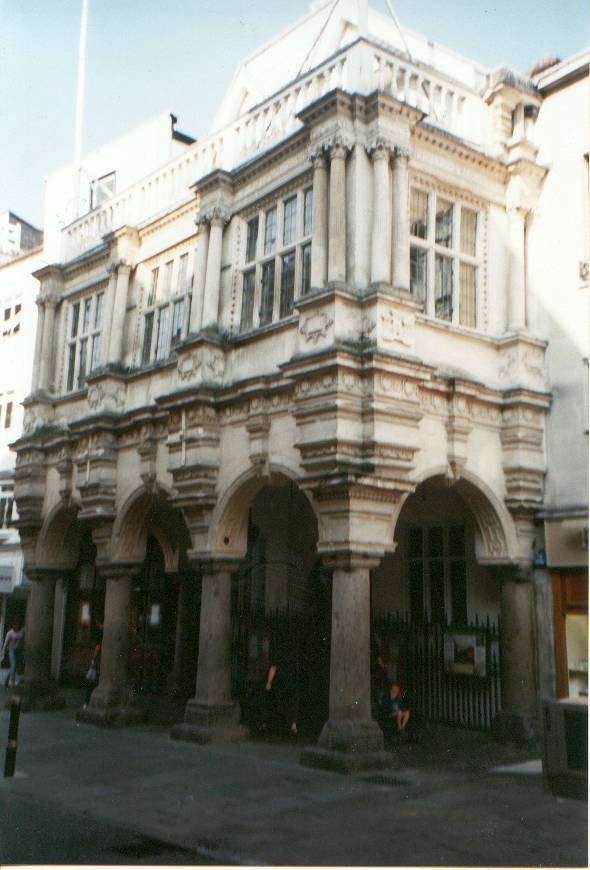 Guild Hall - Exeter Town Centre.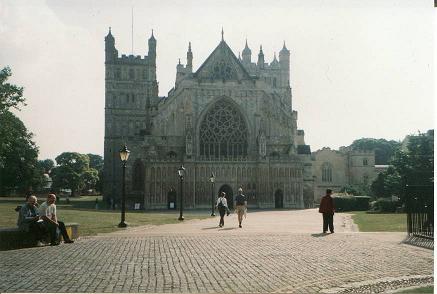 Exeter Cathedral - Green Man carvings.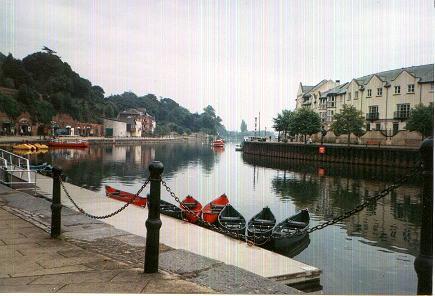 The Quayside besides the River Exe.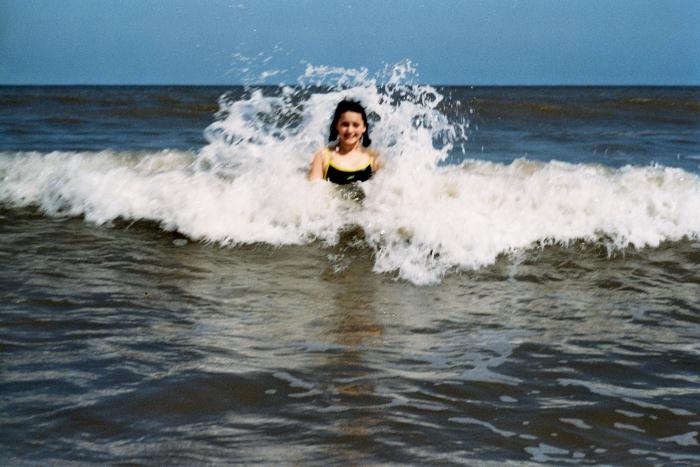 To the left my niece in the sea at Anderby Creek, where we have been going in August for several years. We always rent the same beach house right on the sea front.
It was very peaceful there last thing at night looking out over the sea, with a Full Moon making a river of silver over the water, and a big (surveying?) ship out there for several nights all lit up on the horizon.
I Would Like to Wish You a Happy and Prosperous 2004.